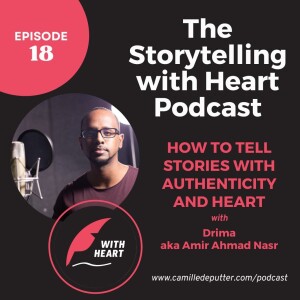 Tuesday Sep 26, 2023
Episode 18 - How to tell stories with authenticity and heart, with Drima aka Amir Ahmad Nasr
What does it mean to work (and live) in alignment with your true self?
What do the words "authentic" and "heart centered" look like in practice?
… And what happens if the things you're doing, saying, or writing about no longer feel like you?
In this episode, I go deep into these concepts with Drima, aka Amir Ahmad Nasr, a multifaceted writer, musician, speaker, and coach. 
Drima is the founder and head coach at Assertive & Co., where he facilitates a values-based method for awakening creators, coaches and experts to their true voice, so they can grow and lead with more purpose, freedom and fulfillment.
Under his given name (Amir Ahmad Nasr), Drima's writing has been featured and reviewed in over 13 languages including The New York Times, The Wall Street Journal, The Atlantic, The Economist, The Guardian, WIRED, and dozens more telling stories about faith, spirituality, human rights, and human flourishing.
Drima brings a human, heart-centered perspective to all of his work and storytelling. In this interview, I ask him to share his thoughts on concepts like authenticity, conviction, vulnerability, and heart-centered. We explore what these words mean in practice, and how to tell stories that deliver not only better results, but also greater satisfaction, meaning, and fulfillment. 
In this conversation, we explore: 
What does "heart centered" actually mean, and why does it matter?

Implications of AI and why words matter less these days (and what matters more.)
Why you should be wary of "plastic vulnerability" and how you can be genuine and vulnerable, even when you're following a script.
Heartbreak as a portal into meaningful storytelling, and why your most heartbreaking moments can lead to your most powerful stories. (And how to navigate this without triggering past trauma.)
Why veering away from controversial subjects like politics is in itself a political choice, and why you might want to engage in these kinds of topics. (Or why you should at least be deliberate about your choice.)
What we can learn from musicians, songwriters, writers, actors, and other types of storytellers… including common traps and pitfalls to avoid.
The importance of developing your marketing materials, communications, and product offers from a place of alignment with who you are. (And why you should be ready to adjust them if they are no longer are a good fit for you.)
The importance of growing and evolving your personal brand, especially if it doesn't feel like "you" anymore. 
If you want to challenge the status quo and work and communicate in a heartfelt way that feels true to you, this episode is a must-listen.
Learn more about Drima and Assertive and Co here: https://assertive.co
Comments
(0)
To leave or reply to comments, please download free Podbean or